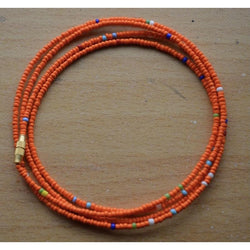 Orange African Beaded Waist Beads
These African beaded waist beads are a bold and eye-catching way to add a touch of Africa to your outfit. They are made with colorful African beads and are available in a variety of styles to suit your taste.
Whether you are looking for traditional and cultural waist beads or something more stylish, you are sure to find the perfect pair here. The beads will move and sway with your body as you dance, creating a beautiful and mesmerizing effect. These waist beads are sure to help you take your dancing to the next level.

With several variants and colors to choose from grab your pair of African beaded waist beads today and start adding a touch of Africa to your outfit!

 ***How To Choose The Right Size***
Make sure you measure your waist with a measuring tape.
Place the tape around your waistline/stomach area or your preferred waistline.
Allow some space for wiggle room, do not tuck in your stomach during the measurement.
To buy the right size, make sure you properly measure your waist or ask someone to take your measurements.
Details
Feature: Stylish Body Jewelry
Material: Beads
Size: Many variants to choose from (Ensure to follow the steps above to properly select the variant that is best suited for you!)
Style: Casual/Stylish
LEONE CULTURE will provide a refund/exchange for your items within 5 days of receipt of product (except for SALE or CUSTOM items, which are final sale). Send a refund/exchange request via email to us at info@leoneculture.com with your order # . The merchandise must be returned to LEONE CULTURE unworn and with all tags in place. Any requests received outside of this 5 day grace period will not be accepted.

Exchange requests will be processed within 2-3 weeks (may be longer during holiday seasons, sales periods, launch events) from when the item is received and confirmation of receipt is provided to the customer.

Refunds (less shipping fees and any customs/duties fees) will be processed within 2 weeks from when the item is received and confirmation of receipt is provided (may be longer during holiday seasons, sales periods, launch events) ; PLUS any additional processing time your financial institution needs to process the request.

Customer is responsible for shipping the item(s) back to us for the exchange/ refund. Shipping fees will not be refunded (including any customs import or export fees).

Any item returned back to us by the shipping company due to incorrect address, will be subject to additional shipping fees to be paid by the customer before it is shipped to them again.


CANCELLATION POLICY


Changed your mind? Ordered the wrong item? If you no longer wish to purchase your garment, notify us via email at info@leoneculture.com within 24 hours from when your order is placed. Full refund will be provided. If cancellation request is not  received after 24 hours, the order will not be cancelled.